Its an exciting day here at eleven2, because we just put our e2 panel live across all of our shared servers!  I know most of you are thinking "that just looks like the old cPanel with a new header"  while that may be true, this is just the first step into something amazing that is currently in development.   There are some great new features along with this new look.
Enhanced AJAX environment
Round Cube webmail update
Backend Security updates
DNS zone editor
And much More!
Here is a large screen shot you can take a look at!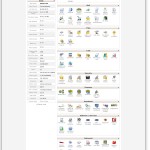 Our favorite feature has to be the DNS zone editor!  You no longer have to submit a ticket to create DNS changes on your account!   Again, this is just the first part of an amazing project that e2 has been working on for quite sometime and we look forward to launching it so you can have the best hosting experience ever!  We have enabled the e2 panel on all shared accounts but if it didn't make it to yours here is a quick video tutorial on how to change.
If you are using the x or x2 theme and want to use the e2 panel just pop in a support ticket and we can get you switched over right away.
Thanks!