Our design and development team have at eleven2 been hard at work, and I'm really happy to finally announce version 3.0 of our e2Panel! This is now rolled out to all our Shared Hosting customers. So much has changed since version 2.0, and id like to point out some of the key main features about e2Panel 3.0.
Redesigned User Interface
We have completely redesigned the user Interface to make it much more appealing, and logical to the user. Everything sits perfectly in position. We have made Version 3.0 alot more minimal than version 2. There is less clutter, and it's more to the point, but is a visual work of art at the same time.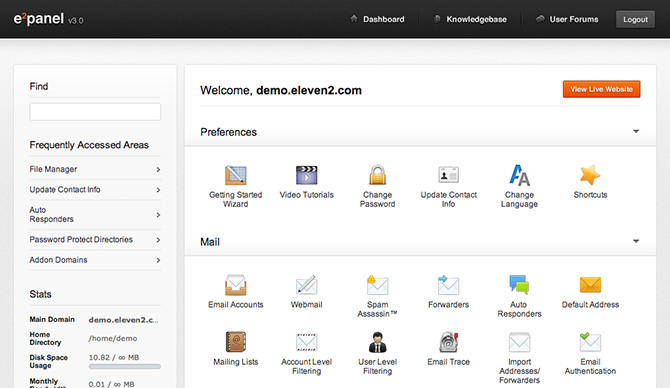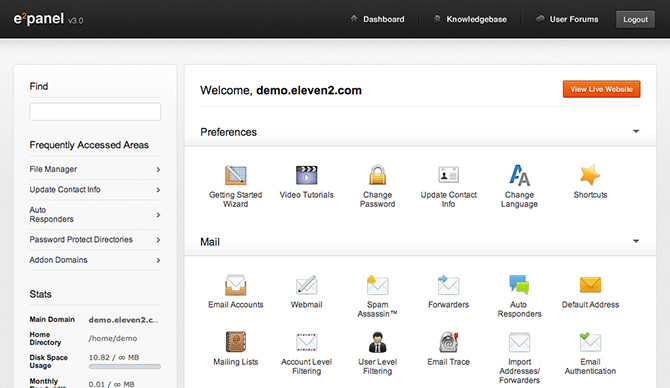 Easily Find Areas
Now you can easily find areas by typing in the find box. The live search will find which area you are looking for as you type. It's extremely simple and easy to use! There is also a Frequently Accessed Areas section which highlights the areas you are in most, allowing for faster access.

Personalize Your Layout
Want the email section directly at the top? You can completely customise where you want everything to be. Simply hover over the top of each section, and drag it to where you want it to go.


Instant Account Statistics
Everyone loves to know whats going on with their hosting account. In our sidebar, you can see a brief overview of your account. Some of the stats include disk space, monthly bandwidth allowance and much more. You can click the little green button to toggle more stats.


Live Chat Built In!
Need that extra bit of help with something? Now you can ask one of our technical support team via live chat directly built in to e2Panel. Hit the Live Chat button and it will open a window at the side of e2Panel.


Our support team can then guide you through everything as you're doing it within e2Panel. Making life extremely easy for you! Help is just one click away!
Check The Demo!
If you want to check out what all the fuss is about, then head over to our e2Panel v3.0 Demo! You too can see why it's great to be an eleven2 customer!